Does your laptop not charge properly ?
Laptop charging socket repair – there are several different type problem that can cause your laptop from charging. The most common is physical damage between the charging socket and the main board, this can be caused by force being exerted on the actual charging plug ie; charging your laptop whilst on the bed, on your lap or tension on the charging lead causes this type of damage ….. you should always have a firm surface that your laptop rests on, like a book. this help with ventilation and reduces additional pressure on your charging socket.
Most times we can repair the existing socket as the connection between the mainboard and charging socket has been damaged in some instances though the entire charging socket needs to be replaced.  Click here for more info.

Damaged Laptop Charging socket – This is a full replacement. The laptop will require full disassemble, using a heat tool (is a must for this repair)…. the original charging socket will re removed and the new replacement fitted and realigned. This repair should not be done using a soldering iron as it can damage the mainboard contact pads, which will render the unit beyond economical repair.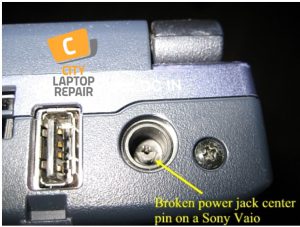 Physical Damage to charging socket
Charging socket has been pushed in  (Chassis Repair)  – Much like the above, just that the actual plastic surround that locks the charging socket into place has been damaged. The charging socket now floats around inside the laptop…. in some instance clients have managed to continue using the laptop this way, they are at much greater risk of shorting out the entire laptop  and rendering it beyond economic.
In this instance the unit would be stripped down and we would rebuild the charging socket support and re position the charging socket… this repair is actually much stronger than the original support. Click here for more details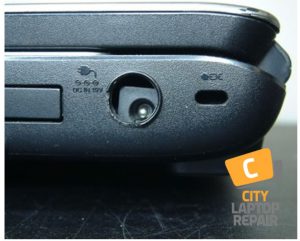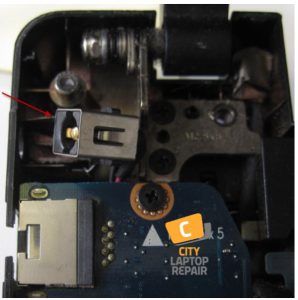 Damage to internal chassis
« Back To Blog Home