Microsoft Surface Screen Repair
Microsoft Surface Repairs is becoming more and more common. The most common repair is a screen repair or screen replacement. The screens are now readily available and repairs are generally completed within a day.
Click here for pricing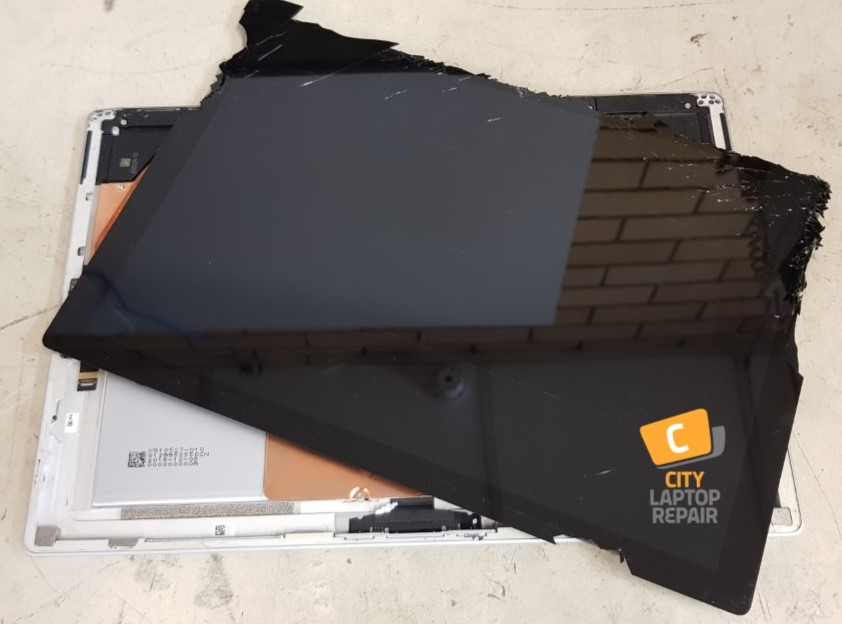 We Replace Microsoft Surface ScreensMicrosoft Surface Screen Repair is the most common repair. It used to be quite hard to get "Genuine" replacement screens, but with popularity crowning, I am happy to say that most screens are now available through our Australian supply chain and are finally fairly priced 🙂
So if you have a Microsoft Surface with a damaged screen, give us a call for a price or complete our instant quote form for any Microsoft Surface Repairs
Chassis Damage
Impact Damage – Not all Microsoft Surface screen repairs are the same, it really depends on how the damage occurs, as you can see in the above picture top right hand corner of this Microsoft Surface has chassis damage. The chassis is damaged from being dropped on tiles, which not only shattered the screen, but also dented the chassis of this Microsoft Surface Pro. In this instant we needed to "Panel Beat" the corner back into shape so the new screen would sit flush inside the chassis. This can be a quiet time consuming but if not done correctly the screen is not protected and could easily break.
Chassis Damage repair cost $47.50
Liquid Damage Repair
As with all mobile devices, liquid damage does happen. This Microsoft surface had Gatorade leak on it whilst in a gym bag, staining the screen and causing liquid ingress on a small portion of the back of the screen adaptor. The Surface was cleaned down and sealed, we had to fit a new screen.. not as it was cracked but the liquid had stained the inside of the screen. Microsoft Surface Repair successful ;0
In short, we provide quality Microsoft Surface Repairs – Call us on 3077 6603 for a quote on fill in the instant quote form.
« Back To Blog Home